What were you doing over the winter holidays when you were in high school? I don't remember exactly what I was doing 15 years ago — probably wasting time on AOL Instant Messenger — but I can definitely tell you it wasn't dedicating myself to a challenging project.
But that's exactly what Zairion Lester, 16, (above left) and Ella Kistler, 15, volunteered to do with their holiday break. Zairion and Ella, both participants in last summer's inaugural Youth Design Competition with Indiana Fashion Week, challenged themselves to upcycle thrifted pieces with inspiration from famous "old school" pop icons. Oh, and they only had a week to do it.
The mastermind behind this challenge: Emily Gartner, creator of her eponymous design collection and founder of the new Art Threads Studio at the CCIC. (You may remember her line of umbrellas from my collaboration with her last summer.) I joined Emily at her studio for the unveiling of Ella and Zairion's upcycled pieces. Here's more about their experience, in their own words:
ZAIRION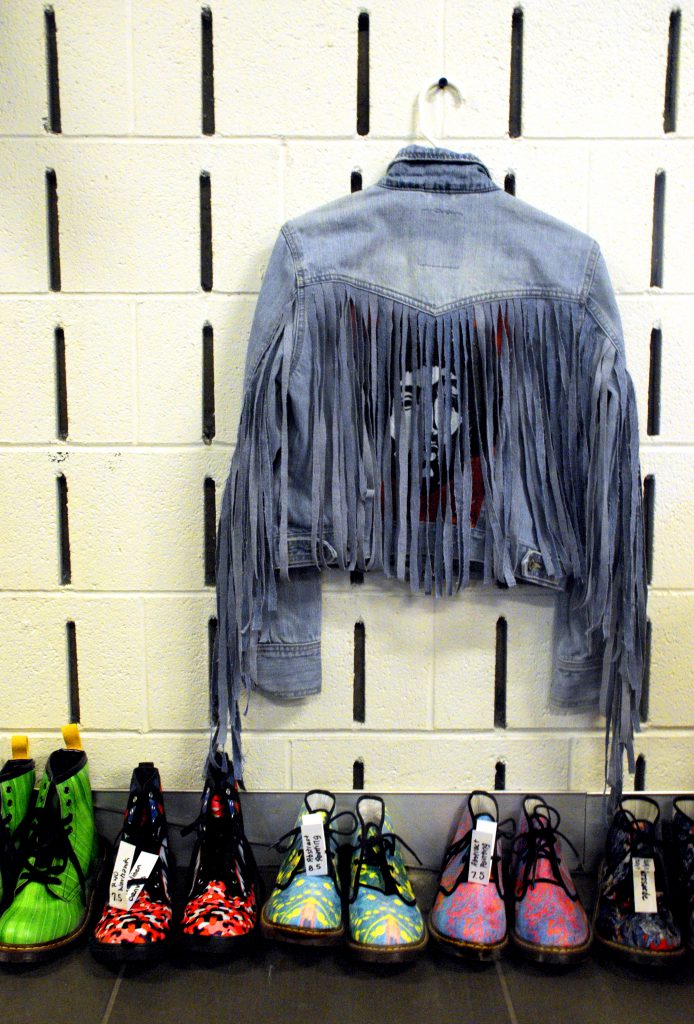 Zairion picks up his first piece [pictured above]. "So I reconstructed each jacket with garments I found at Goodwill. First we have Jimi Hendrix, and I put him behind the fringe like a curtain reveal. Then I made it red, black and white because the colors gave a political, bold outlook. Jimi Hendrix stood for peace."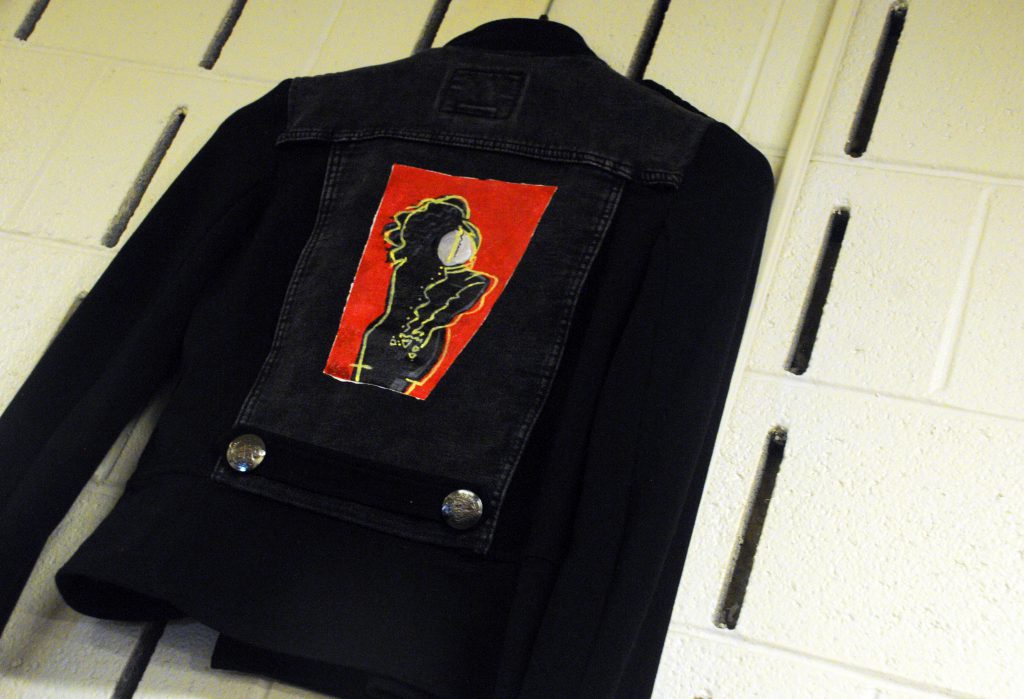 "Next is Janet Jackson [pictured above], and I did a painting from her "Control" album. This is the look from that album, from her "Rhythm Nation" video. I made each jacket similar to what I think [the artists] would wear, so I cut up a black denim jacket and put it on this piece on the back and on the sleeve [cuffs]."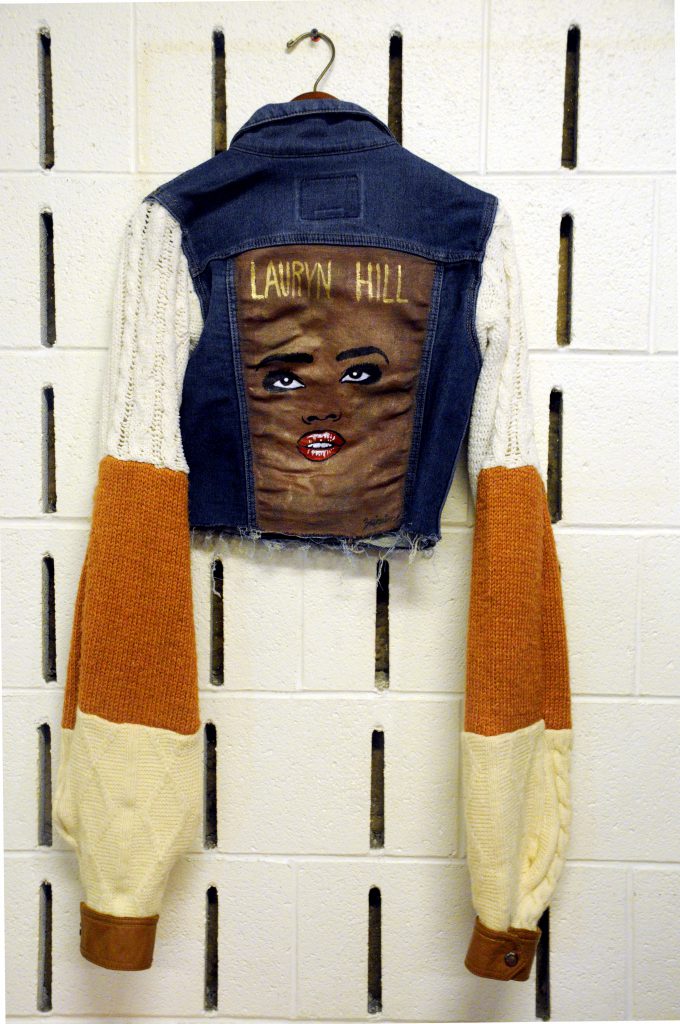 "Next, Lauryn Hill [pictured above]. I cropped it right here," he says, gesturing to the cropped, frayed midriff, "then bought three knitted sweaters and cut the sleeves in half to sew together and make one, long giant sleeve. It's bulky and large and was the style back then. Then I painted her face."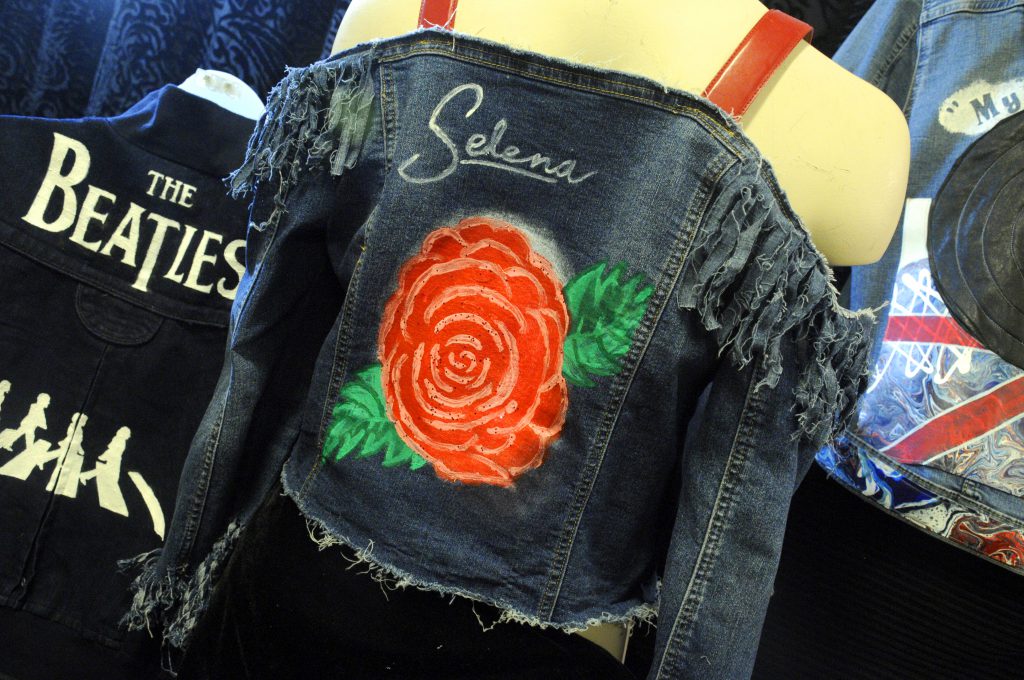 "Last, I've got Selena. I did a LOT of reconstructing with this jacket. Took the entire top part off, then sewed the fringe on from a different denim fabric. Just cut it up and threw it in the washer. Thank God it turned out this cool! Pinterest is amazing. Then I painted this flower because, from watching her interviews, I felt she was a down-to-earth person, and I added pieces from a cut-up belt because her iconic symbol was red. Of course, I did her signature in the front."
ELLA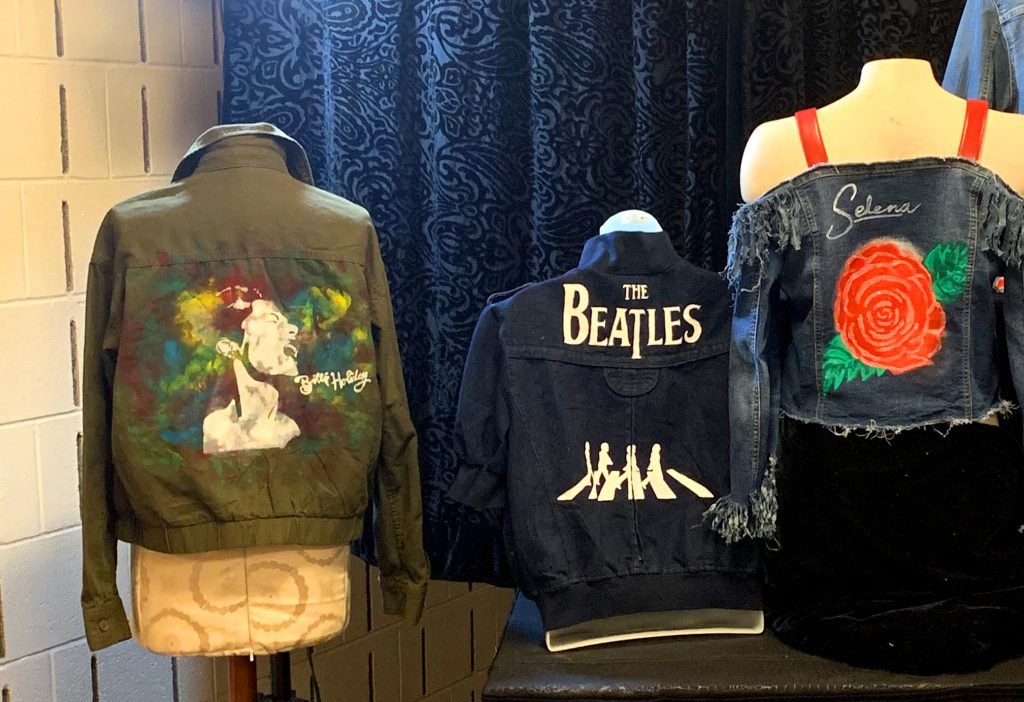 Ella: "This challenge really inspired me because I LOVE vintage and I LOVE music. Got this jacket [pictured above, center] at Goodwill and didn't really know what to do with it. Thought maybe Bob Marley, but that wasn't it. Thought about some 20s and 30s female artists, but then my dad pointed out that this top part was perfect for a big band name … So this is the Beatles jacket… Then I got the [Billie Holiday] jacket in Kansas [pictured above, left], and got some acrylic paints for it even before knowing who I was going to paint on it. It's actually not supposed to look all "blotchy," but when we spray painted it, it turned out so much better and so much more perfect. And I put in her signature, right there."
DUO Q&A SESSION
What did you find the most surprising or interesting doing this challenge?
Ella: Probably how difficult it was to choose pop icons, trying to pull inspiration from the jacket to figure out who you were going to use.
Zairion: For me, it was the reconstructing of the jackets. The fringing — oh my God, I did not think the fringing was going to take so long! It took hours just with tweezers and scissors and razors…
You both spent a lot of your holiday break on this challenge. What inspired you to take it on in the first place?
Zairion: I can't speak for Ella, but to push my limits, to see how much creativity I could pack into a week.
Ella: That was a big part of it, yeah, and I love fashion, designing. I love art itself. So really, I'll take on any challenge that I'm physically, mentally able to do. [Emily] gave me this opportunity and I was like, 'I've gotta take it! I have to do it. It's gonna be so much fun, and it's gonna help me in the long run. It's experience.'
Tell me more about your Youth Design Competition experience with Indiana Fashion Week last summer.
Ella: We were taken to Goodwill and had, what, 40 minutes? Twenty dollars and 40 minutes to find a bunch of clothes we were going to put together to make a different outfit, either designing it or putting together different clothes to make a whole new outfit. And then we had a work day of about six and a half hours, then the final day was the fashion show, and it was AMAZING.
Zairion: That was amazing.
Ella: We actually got invited into the VIP lounge…
Zairion: That was one of the best moments. We got to drink, what was in the little shot glass? Ranch and a carrot…
Ella: Vegetables, like asparagus.
Zairion: Yeah, a lot of vegetables in there. Delicious!
Emily, behind me: Veggie shooters! Those are called veggie shooters.
Ella: [laughing] So, besides the food, we got to tell the makeup artists what we wanted our models' makeup to be, and their hair, and we got to be behind the stage and see it all getting put together, all the designers. There were so many really good designers. Not just youth designers.
Zairion: It was mind-blowing. Just remembering it now, the memories and the feelings, it was really amazing. Seeing everyone behind stage working so hard on something they love was exciting to me.
Ella: We also got pictures with Fern Mallis [creator of the original NYFW]!