Is there anything more American than a summertime antique car show in a small town square? Yeah, didn't think so. As we in the United States kick off a week of fireworks, BBQs and pool parties, it's a good time to pose the question: What makes America, well, America?
The country's wonders, especially those found in nature, have been immortalized in song for centuries, most recently by Justin Timberlake's "Man of the Woods" album. (If you haven't listened to it, check it out and then tell me if you can ever think of Montana and flannel in the same way again.) It's part of a bigger eco-conscious movement, as it's now popular to live more simply due to — ironically — the definitely non-American trend of hygge, and "hyperlocal" has become the "it" word in recent years, thanks to a rise in American shoppers buying from farmers markets and regional artisans instead of big-box conglomerates. Supporting local means supporting the land and those who respect it.
Of course, there's no better way to understand America than to visit more of it in person. (Take John Steinbeck, for example, who traveled 10,000 miles and through 34 states with his dog in 1960 to write "Travels with Charley in Search of America.") Last summer, the fam and I set out on a 5700-mile journey from Indianapolis to the Pacific Ocean waters of Washington State and back. Six people, two weeks, one Suburban and the open road.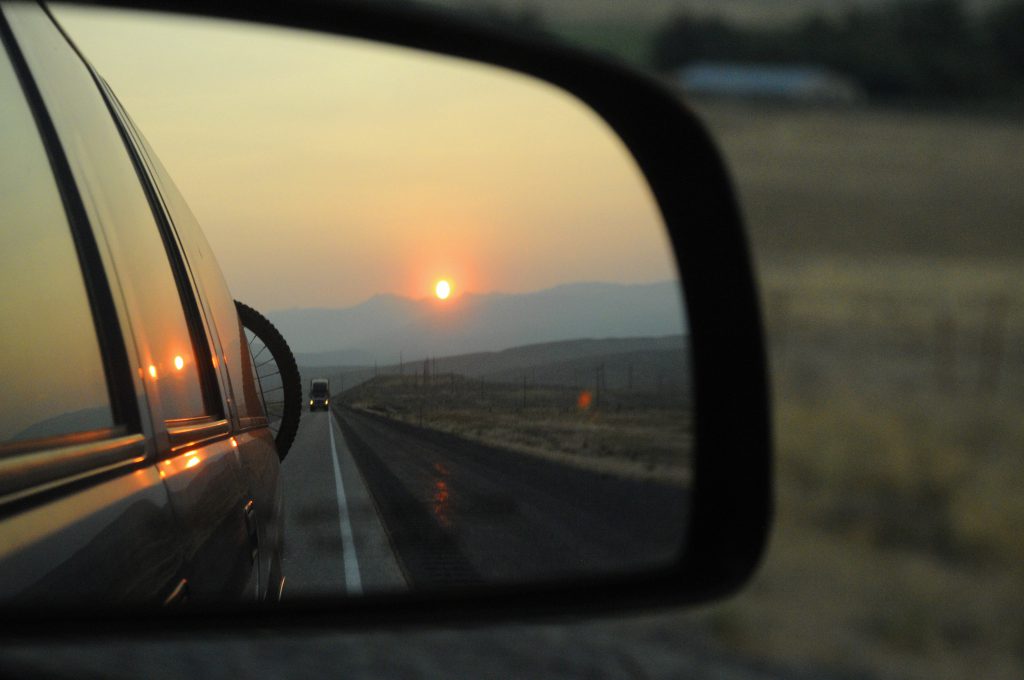 As I'm sure some of you are wondering: Why drive almost 6,000 miles when you could simply hop on a plane?
Sure, our destinations are what brought us out west — the perfect blue of Crater Lake in Oregon, the quirky attractions in Portland, Pike Place Market in Seattle, the lush forests of Olympic National Park — but traveling is about so much more than getting somewhere quickly. Flying is efficient, yes, but you miss the in-between adventures — the natural beauty outside of concrete jungles and shopping malls and noisy traffic jams. Sometimes it's a melancholic beauty. In so many of the places we passed in the Great Plains, the old farm towns are echoes of what they once were, with single metal-winged windmills and dilapidated wooden shacks and abandoned self-serve gas stations standing battered yet proud against the waving yellow-grass sea, as if saying, "You bet I'm still here."
And other times, it's a hopeful, resilient beauty. Miles of unruly clumps of sunflowers worshipped the sky along the highway into Wyoming, our welcoming committee into the rocky, wild prairie of America's famous frontier where the pronghorn antelope actually do play. And those glorious sunsets, like layers of pulpy pastel watercolor paper with softly ripped edges hanging above gentle periwinkle mountains with blood orange suns, are perhaps the perfect ode to a farmer's long workday.
It's in the in-between, the areas you can barely spot at 30,000 feet above, that the vestiges of a different America than the one us city kids see still live. It's also in that "in-between" that strangers become friends, if just for a few minutes. And friendship isn't limited to one species. Like my buddy Duke, a 10-year-old Labrador Retriever whose head drooped outside his owner's van window, exhausted after a day of fishing with his mom and dad.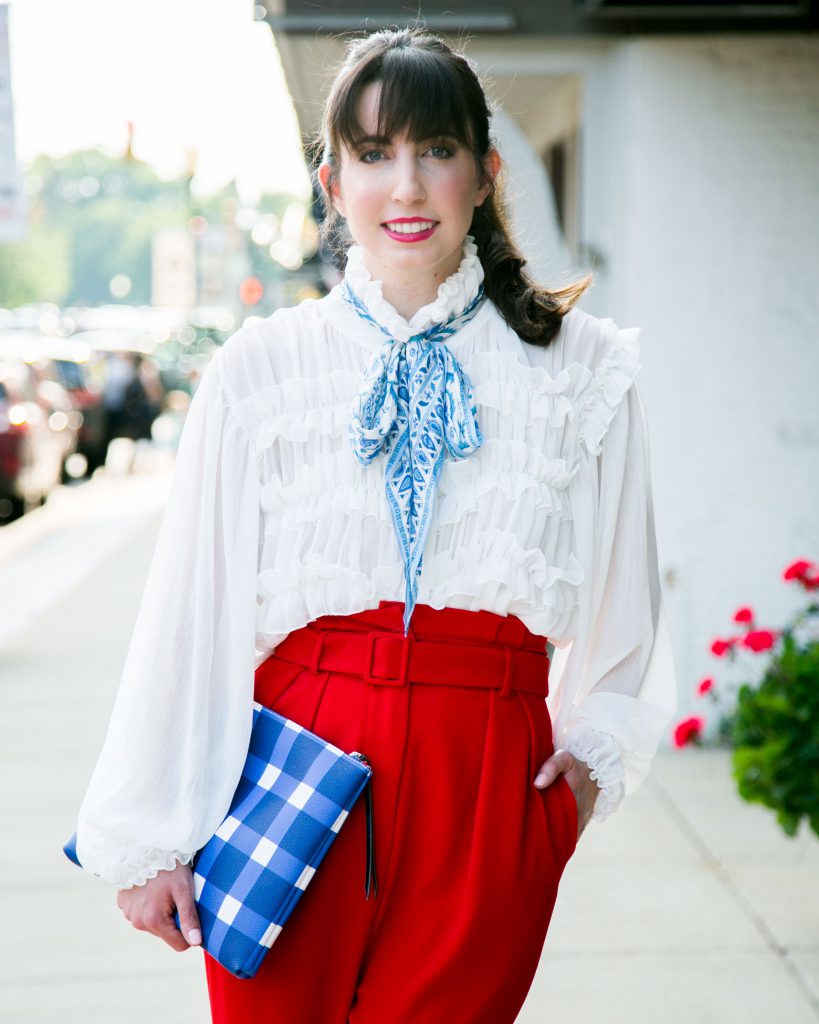 It would be pleasant to be able to say of my travels with Charley, 'I went out to find the truth about my country and I found it.' And then it would be such a simple matter to set down my findings and lean back comfortably with a fine sense of having discovered truths and taught them to my readers. I wish it were that easy.
– John Steinbeck, Travels with Charley in Search of America
So, what makes America the land we know? Steinbeck couldn't confidently say, even after months of being on the open road, but I'd bet that for him, too, America shines best in those "in-between" moments when it shows you a new side of itself — and a new side of you, too.
Noblesville Town Square photos by Chantal Dominique Photography
OUTFIT:
White chiffon blouse and red high-waisted pants: Lesley Jane Boutique
Blue-and-white paisley scarf: Vintage
Blue-and-white gingham clutch: Banana Republic
Hair: DryBar Indianapolis
Makeup: Nicole Prewitt