On a surprisingly chilly September evening, more than a thousand Hoosiers — dressed in their finest white suits and cocktail dresses — emerged from dozens of coach buses and converged on the hallowed Yard of Bricks at the Indianapolis Motor Speedway, tables and chairs in hand. Why so fancy? And why all in white? Read on, friends.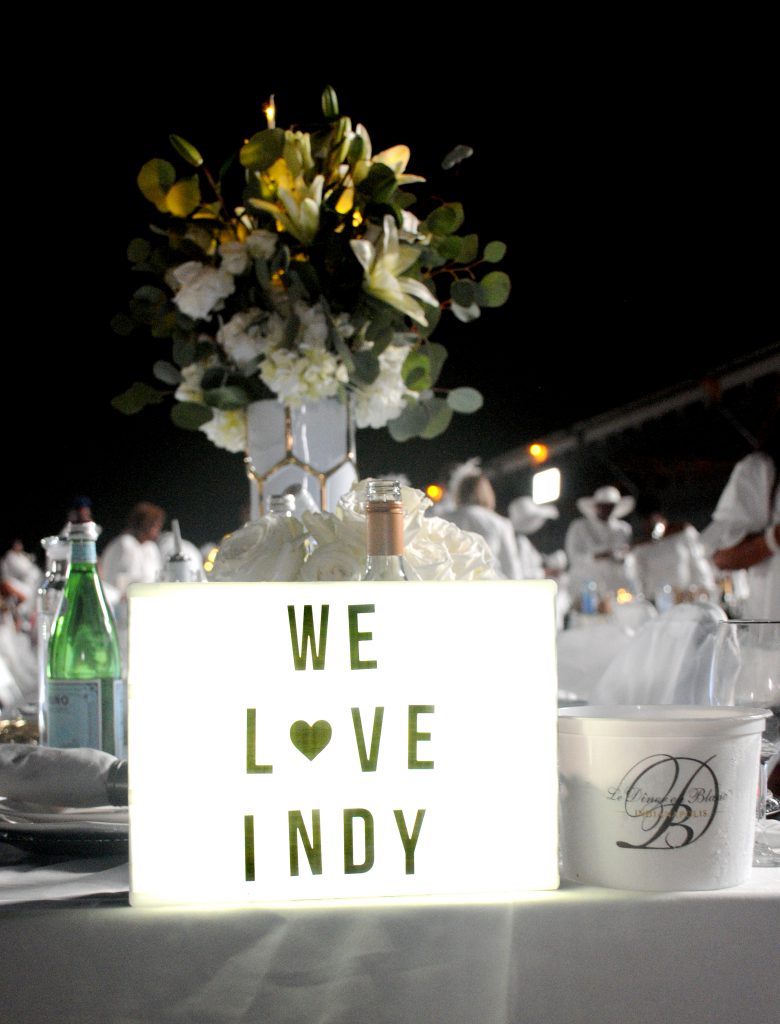 POSH PLATES & DINNER DATES
Diner en Blanc is a pop-up dinner concept that originated in France 30 years ago. The focus was simple — on fabulous food and wonderful conversation with friends — and wearing all white makes glorious farmers market-fresh dishes an automatic centerpiece. As Diner en Blanc continued to grow each year, it established itself as an elite event: To attend, you had to be invited by the host or be the guest of someone else on the "in list," and the dinner location was clouded in secrecy until a few hours before.
The idea of a dinner party with all-white dress and decor has been duplicated in cities all over the world, and Indy is no exception. From 2013-2016, Yelp Indianapolis held "Yelp's White Night," originally hosting a small group of people near White River State Park in 2013, then closing down Monument Circle for the next two years so about 1,000 Yelpers could enjoy dinner under the stars accompanied by a group of Indianapolis Symphony Orchestra musicians. (I couldn't attend its final year in 2016, as I was only a few weeks away from my wedding.)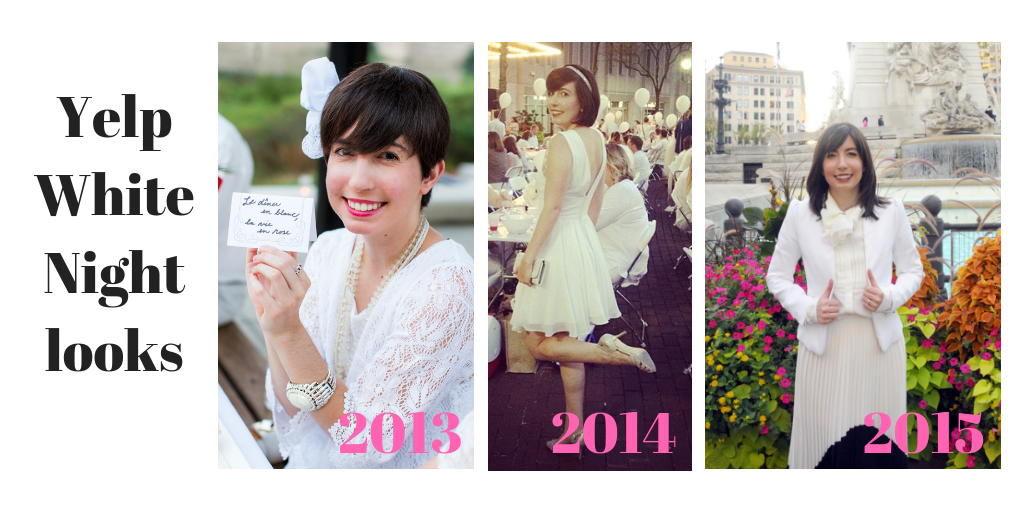 *2013 photo by Micala McClain Photography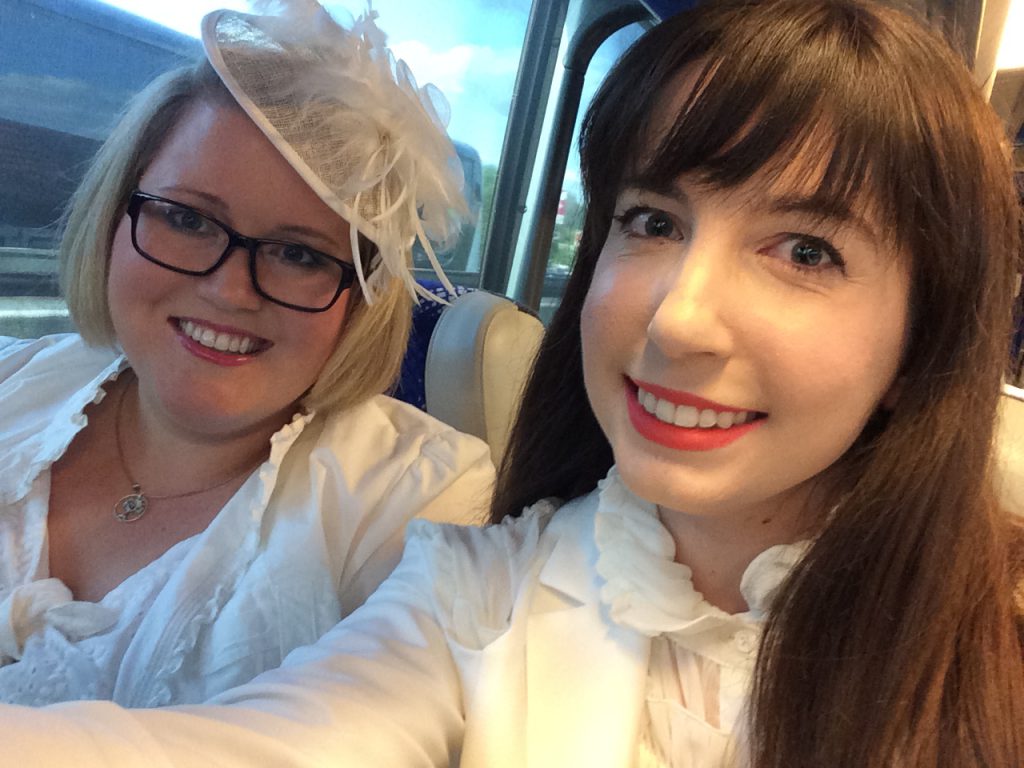 My Diner en Blanc companion for the evening, fellow blogger Lindsay of The Love Bungalow, and I aboard our bus waiting to hear where we were headed
A WHOLE NEW KIND OF DINNER PARTY
Although the concept wasn't new, the fact that this year's event was organized under the official Diner en Blanc umbrella was. As the inaugural Diner en Blanc Indianapolis, we were told the organizers had to go through a lot to be accepted as a new host city, and the dress code was more strictly enforced. (Wearing beige? Sorry, friend, that's not allowed.) And unlike Yelp's events, there is a 3-phase system to getting in, with thousands who remained on the waitlist.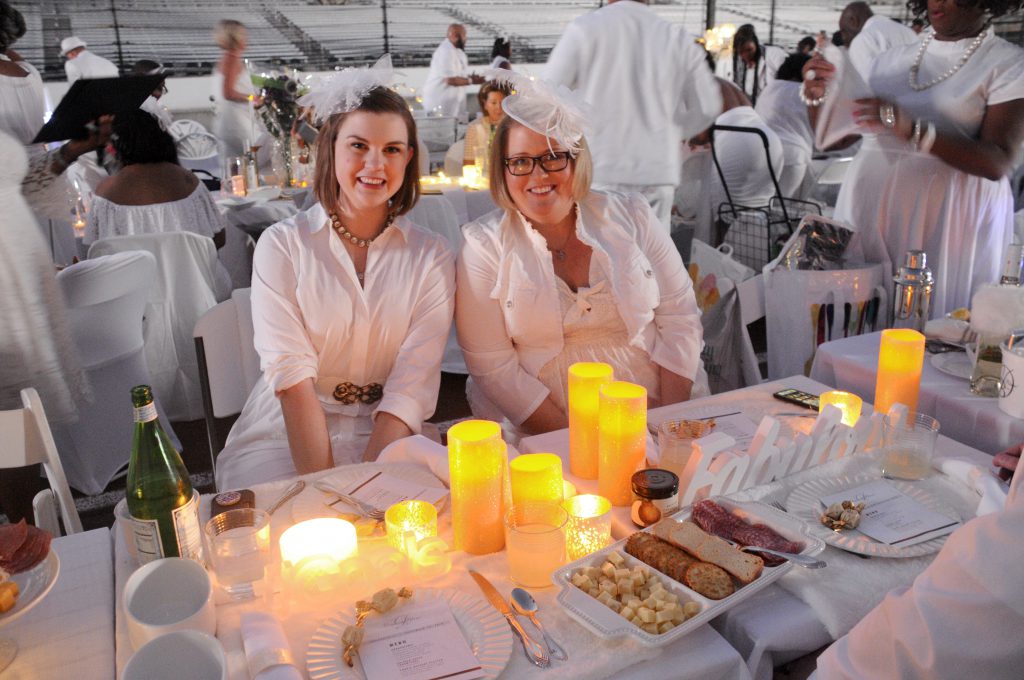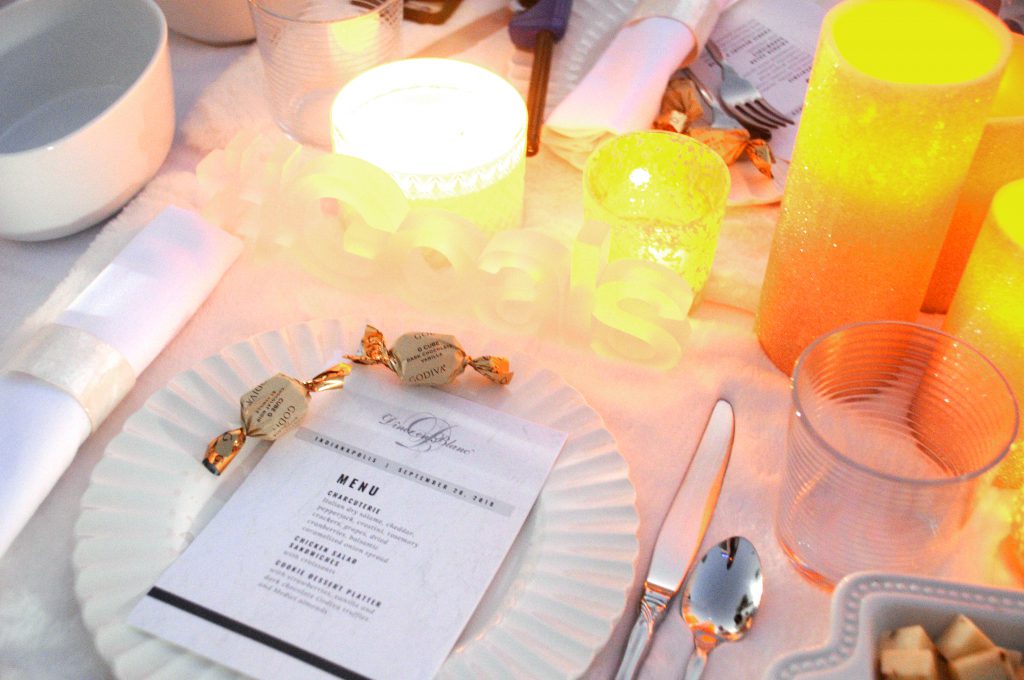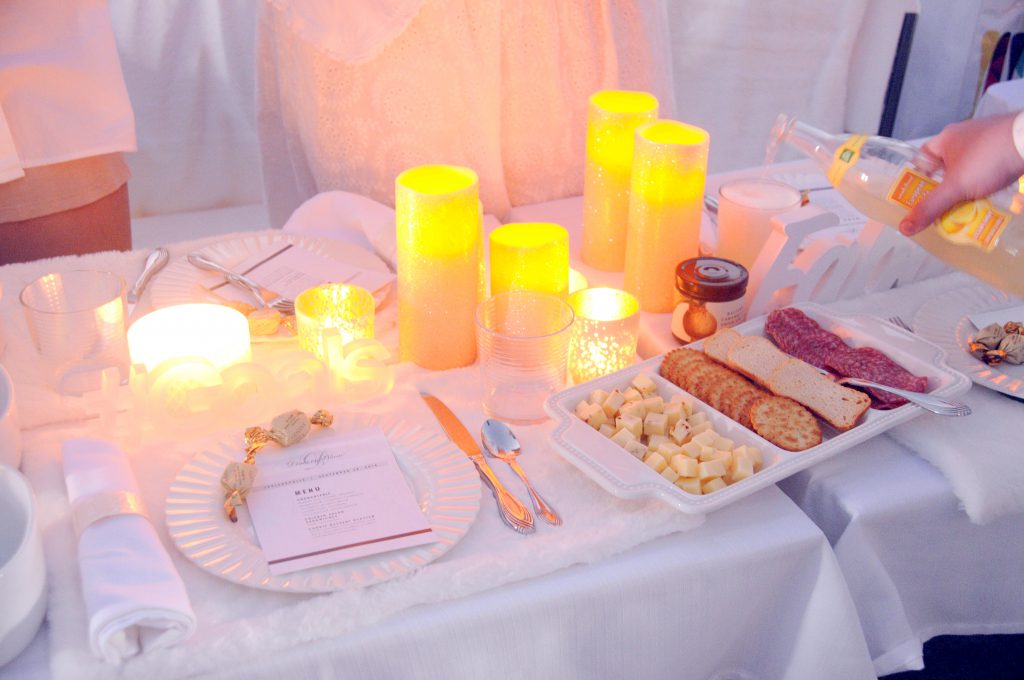 DECOR TIPS & TRICKS
Next to your outfit, your table's decor is the second easiest way to show off your personality. Decorate it in all white as much as you want — but keep in mind that everything has to be carried in, unpacked and repacked and then carried back onto the charter bus. Keeping it light is key, and that's not easy when rules outline that "real" plates and silverware, not plastic ones, are what's allowed.
My favorite part of our tablescape? The white faux-fur placemats and table runners (I draped them across our chairs like soft slipcovers), which not only brought a luxe texture but also will be perfect for my dining room come winter. I found these at HomeGoods, but Wayfair and other vendors have similar items. I also picked up a set of pearlescent capiz shell napkin rings from Paper Source for our linen napkins.
DEB-ing on a budget? Our white tablecloths are actually a $7 pair of white curtains, and most of our fine china was (wait for it…) bought at Goodwill for under $15 total. No need to risk breaking your own fine china while transporting it. And an easy way to elevate your table's look is by designing and printing your own menus.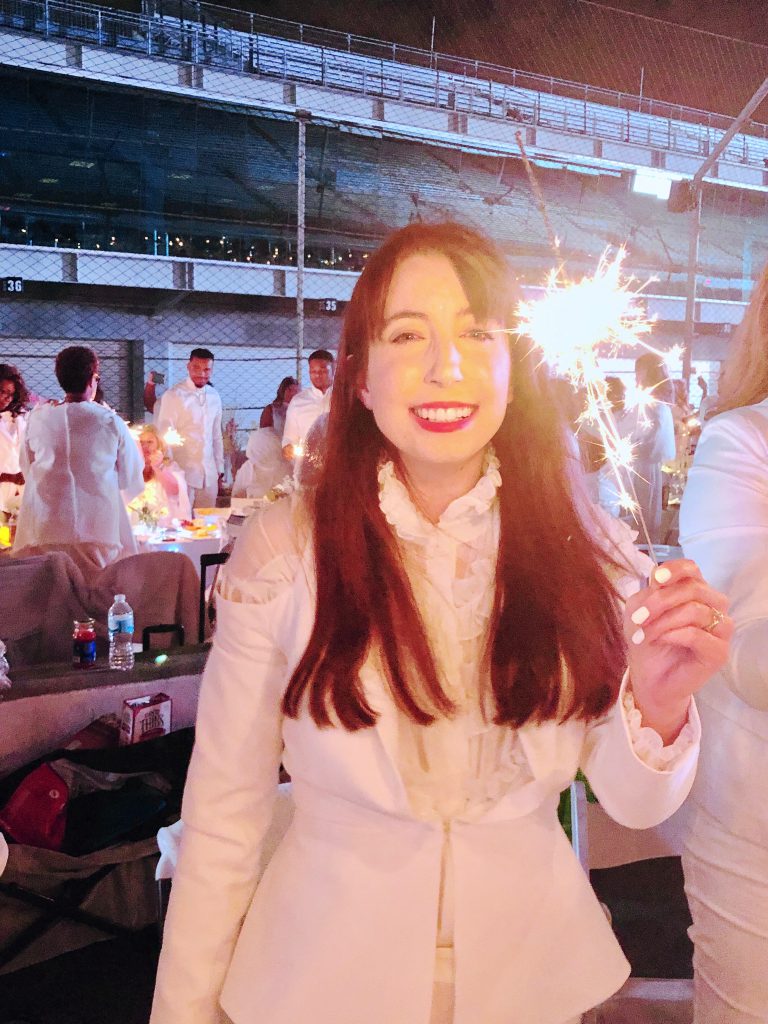 OUTFITS AND ENTERTAINMENT
Throughout the night, DEB attendees are entertained by candlelight; this year, dancers from Expressenz (featured on the second season of NBC's "World of Dance") and the Pork n Beans Brass Band performed while we snacked on our appetizers. Also noteworthy are a couple of DEB traditions: the linen napkin wave and the in-unison sparkler lighting. Just imagine 1,200 little flickering sparks, like cell phone flashlights at a concert but much cooler, illuminating the speedway.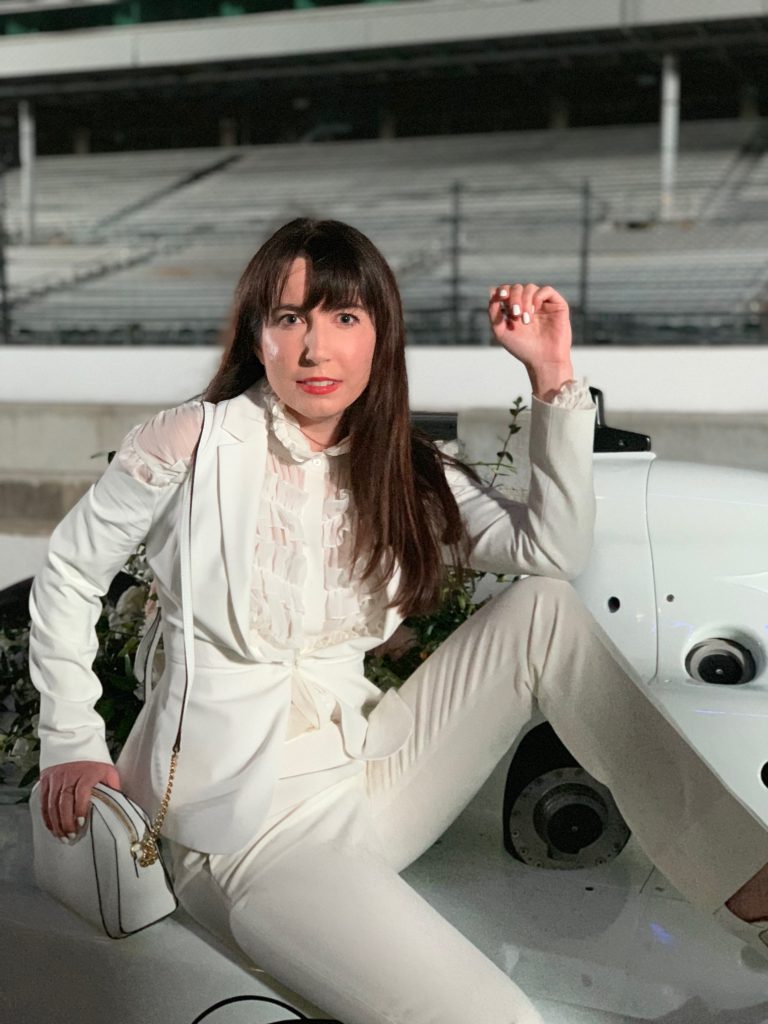 It might come as a surprise to you that Blake Lively is one of my fashion idols — seeing how she's an almost 6-feet-tall, leggy, curvaceous blonde and, well, I'm definitely not — but her latest flirtation with tailored pantsuits to promote her movie, "A Simple Favor," was my inspiration. The best part of shopping for white clothes in late September, even though the "no white after Labor Day" rule is outdated: sales everywhere!
P.S. Thanks to the random stranger with a new iPhone XS for snapping the above photo and AirDropping it to me, the woman with an ancient iPhone model. 😛
MY LOOK:
Shasha Peplum Blazer, Kurra Straight Leg Trouser and Keira Leather Crossbody Bag: all BCBGMAXAZRIA
* the crossbody bag is no longer sold in white, but also comes in tan and black
Studded pump heels: Target, A New Day
Ruffled chiffon button-up blouse: Lesley Jane Boutique (no longer sold)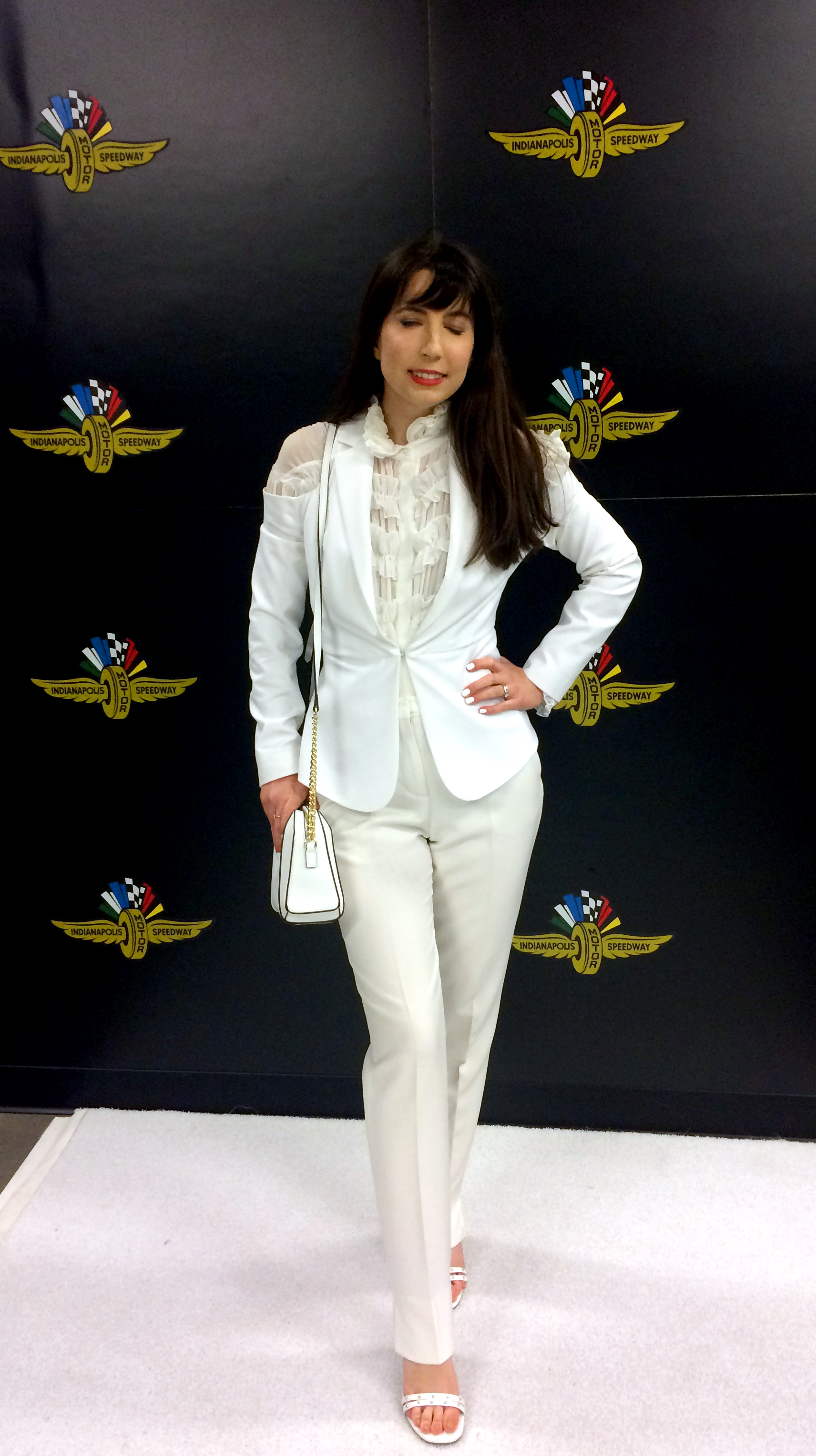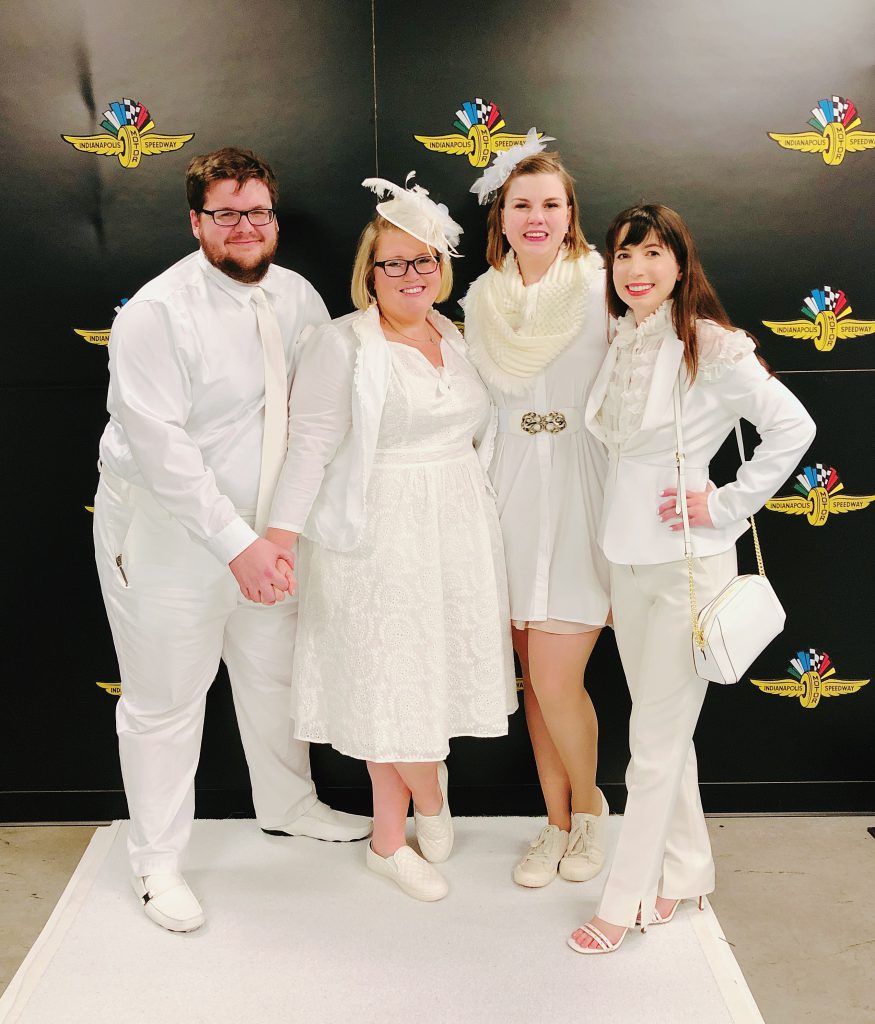 HOW TO ATTEND NEXT YEAR
Make sure you're signed up for the waitlist now! Learn more at indianapolis.dinerenblanc.com.