I first met Jodie Bailey at last year's Hats Off!, the annual springtime luncheon for Newfields' Fashion Arts Society, and to say the milliner was in her element would be an understatement. Not only was the event's keynote speaker the talented Abigail Aldridge, a New York City hatmaker whose work has appeared in Barneys and Bergdorf's and on the heads of celebs like Yoko Ono and Linda Evangelista, but the luncheon also kicked off the museum's (then) latest exhibit: a collection of eclectic Bes-Ben hats.
A mutual friend of ours told Jodie, after viewing the exhibit of headwear from the "Mad Hatter of Chicago," that Jodie's new nickname should be the "Mad Hatter of Indy." And it more than stuck — Jodie's embraced the title, even making it her official hashtag on the sign hanging outside her studio, aptly named her "hattery."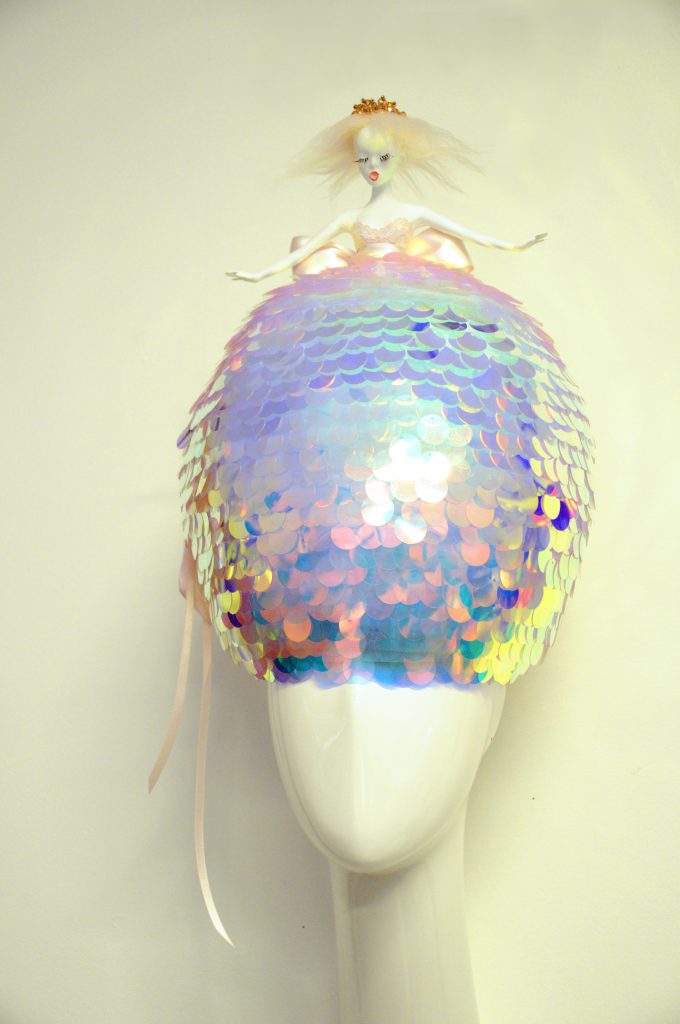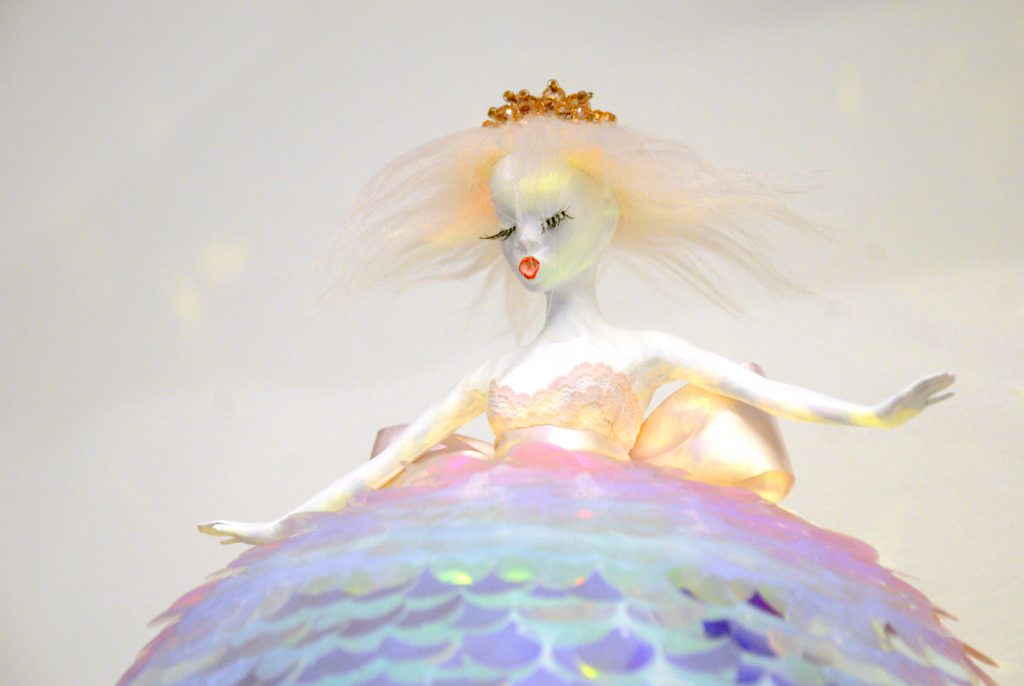 And there's a similarity between Chi-town's famous eccentric milliner and Indy's own "Mad Hatter," as Jodie translates her visions into designs by often repurposing quirky, everyday objects. From two-toned feathers and leather belt buckles to Barbie doll legs, puzzle pieces and translucent sequins, each hat is strikingly unique. (How about an alien picnic? Or a skull fedora chic enough to wear with pretty much anything?)
Jodie (wearing one of her own designs, a black pillbox hat with a zipper shaped like a whimsical tendril) introduces me to some of the pieces in her studio, launching into stories about them: some lighthearted, others profound. One of my favorites — "Diminuization," pictured above — is a look at the role of women in a society that expects them to be demure.
Thanks to her hats' innate ability to spark conversation, she's showcased at Saks Fifth Avenue in Keystone and with Pattern Magazine, among others. Her latest endeavor: this Saturday's runway show, "Appearance: Tats and Hats," a showcase of tattooed models taking on the catwalk wearing her pieces. And it's all for a good cause: Tickets for the show, plus profits raised from the night's silent auction of Kate Spade and Michael Kors handbags embellished with designs by local artists, will support the Indiana Coalition Against Domestic Violence. Learn more about "Appearance."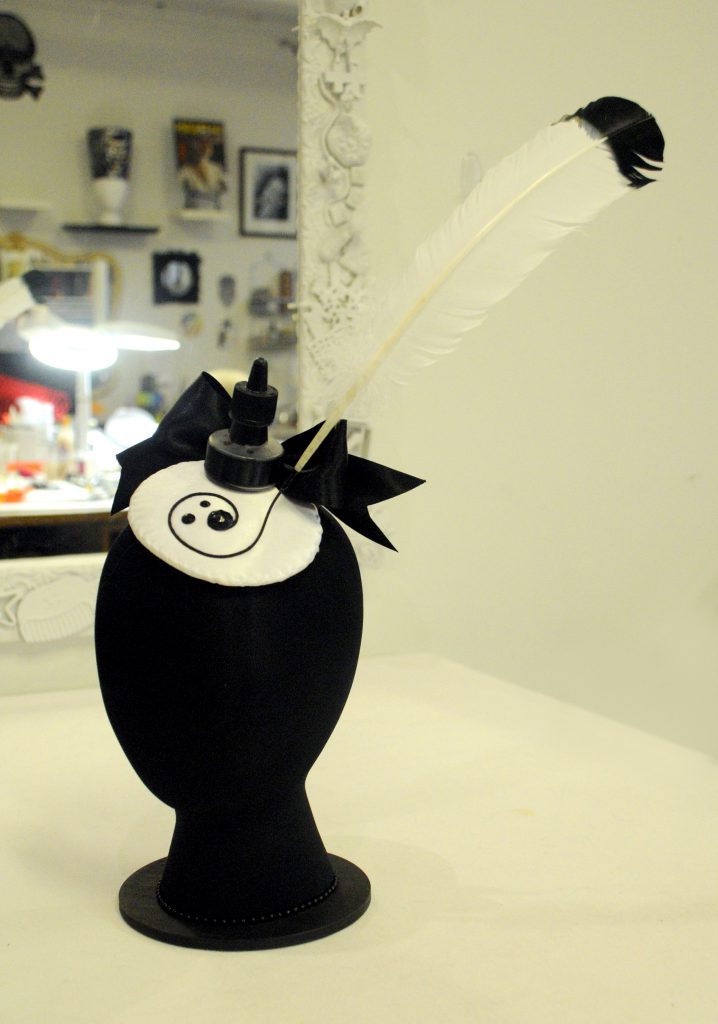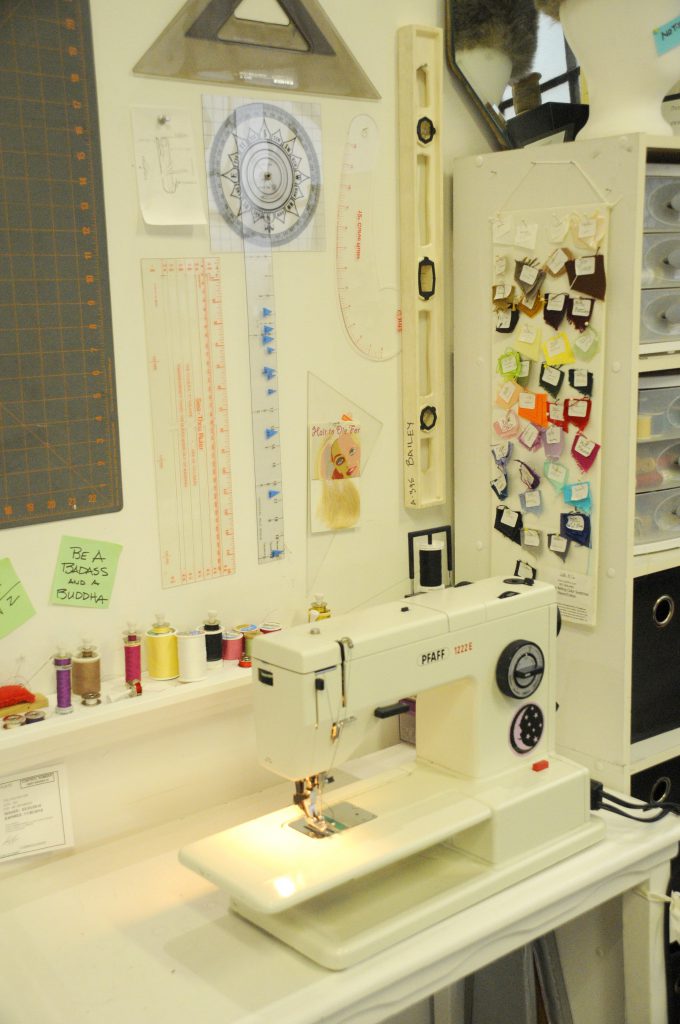 As much as I'd love to share all of my studio tour with you, most of Jodie's beautiful hats can't be shared online before Saturday's show. What I can share is that there will be enough personality and creativity to light up the runway. You'll just have to show up to see the rest. 😉