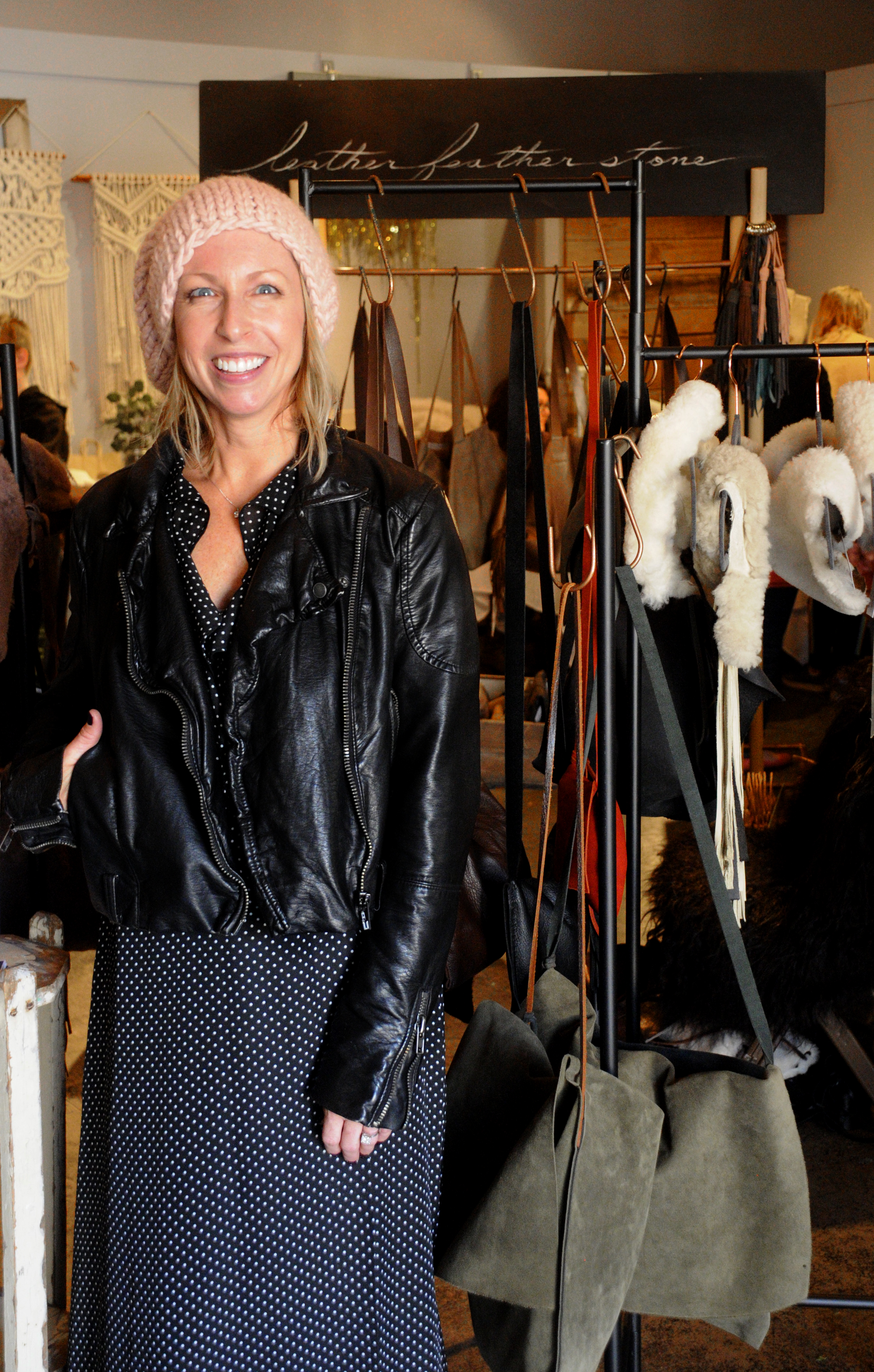 ABOVE: Designer Brooke with her suede messenger bags
Brooke Lindemann can credit her foray into leatherworking to an unlikely source: her mischievous dog. After she found the leather fringe on her favorite pair of boots chewed up, Brooke opted to fix them herself instead of reluctantly throwing them away. During a trip to search for material, her "creative mind just exploded" and she returned home with a plethora of small scraps to play around with.
I'm drawn to leather, texture, distressing … My first loves were painting and sculpting, and leather has this sculptural quality. I just loved the way it moved when I sewed it."
Fast forward to 2018, and Brooke's then-newfound love of leatherwork has led to 7 years as the founder of Leather Feather Stone, an accessory business that has allowed the former Anthropologie manager/J.Crew client specialist and mom of three the flexibility to work from home. She's also branched out to other materials and textures, like the shearling she uses in her decorative wraps and totes, and gold-flecked suede in one of my favorite holiday-perfect clutches.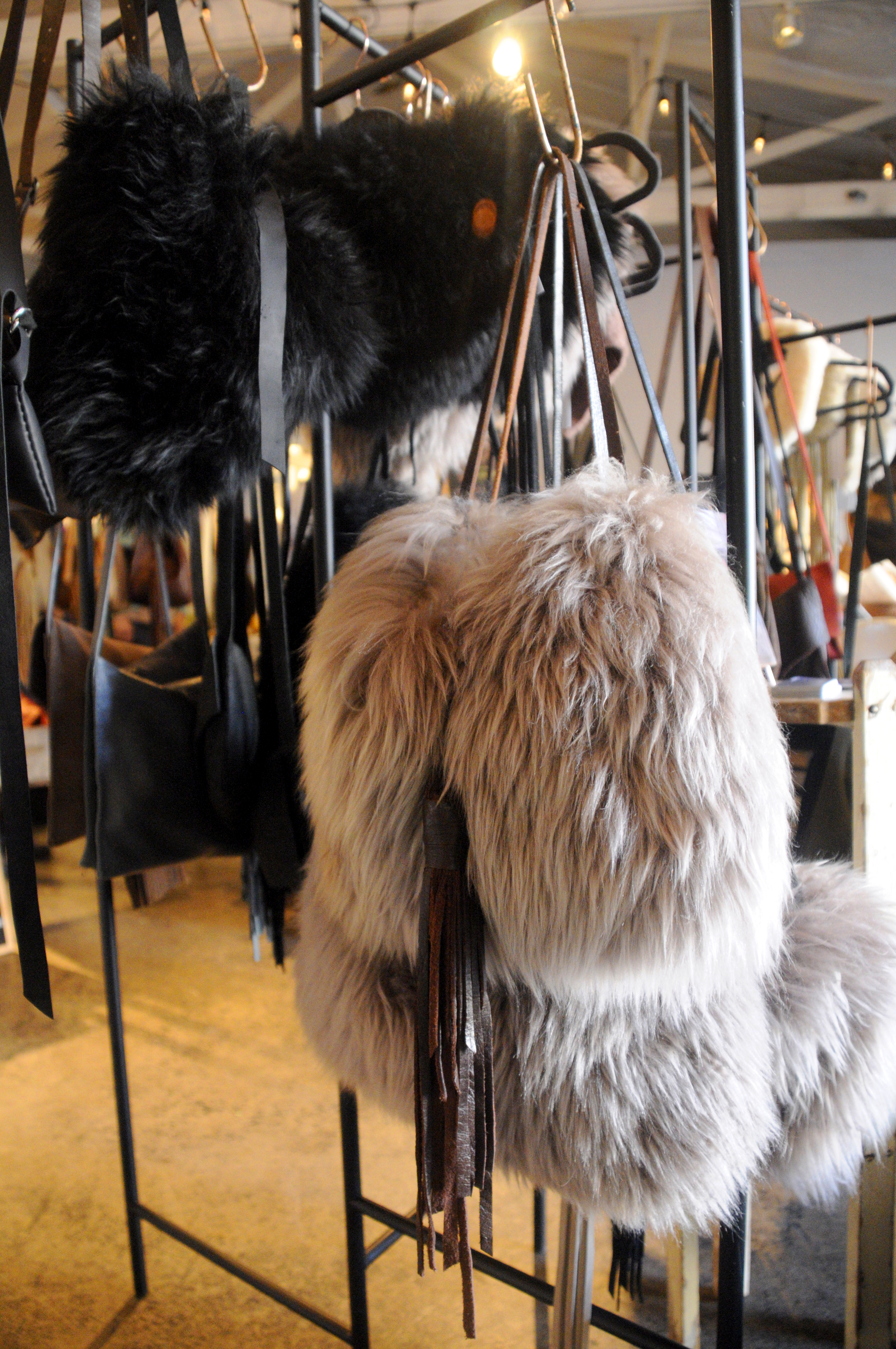 ABOVE: Brooke's shearling tote in Taupe / BELOW: Crackle clutch in Black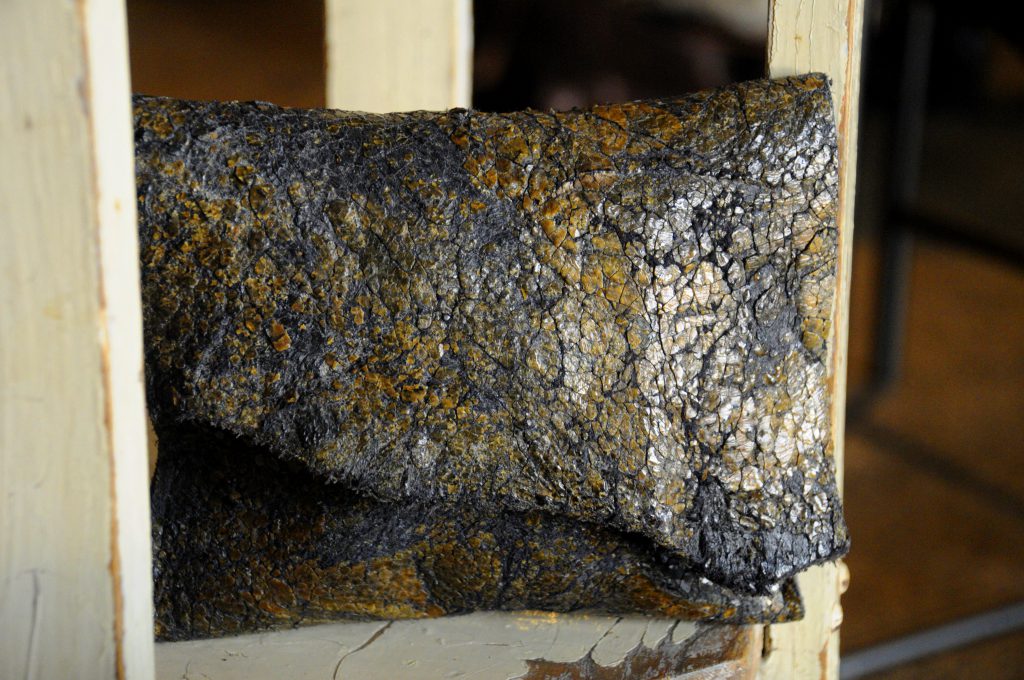 I want someone to have a bag they'll wear forever, maybe become an heirloom piece they can hand down to somebody else… I want them to feel like they bought a piece of art, really." — Brooke Lindemann, founder of Leather Feather Stone
It's the rugged versatility and asymmetrical handcraftedness that sets Brooke's handbags apart from major designers, she says. She plays up natural, uneven edges, and by keeping colors neutral and hardware at a minimum, her pieces remain timeless and accessible to customers of all styles. And because her leather is salvaged from the shoe industry, every piece is different — and that's exactly what gets her mind running.
"Is there a hole? Is there an imperfection? I use them to guide my creative process," she says. "I let the hide talk to me, then create something by bending and folding it."
What also sets her apart: her lack of sales-y talk. When I visit Brooke's booth at a holiday fair at French Pharmacie, she allows shoppers to browse but doesn't pressure anyone to buy. "I'm not a pushy salesperson, and I'll even discourage people from buying anything of mine if they're on the fence, because I want them to walk away with something they love," she says.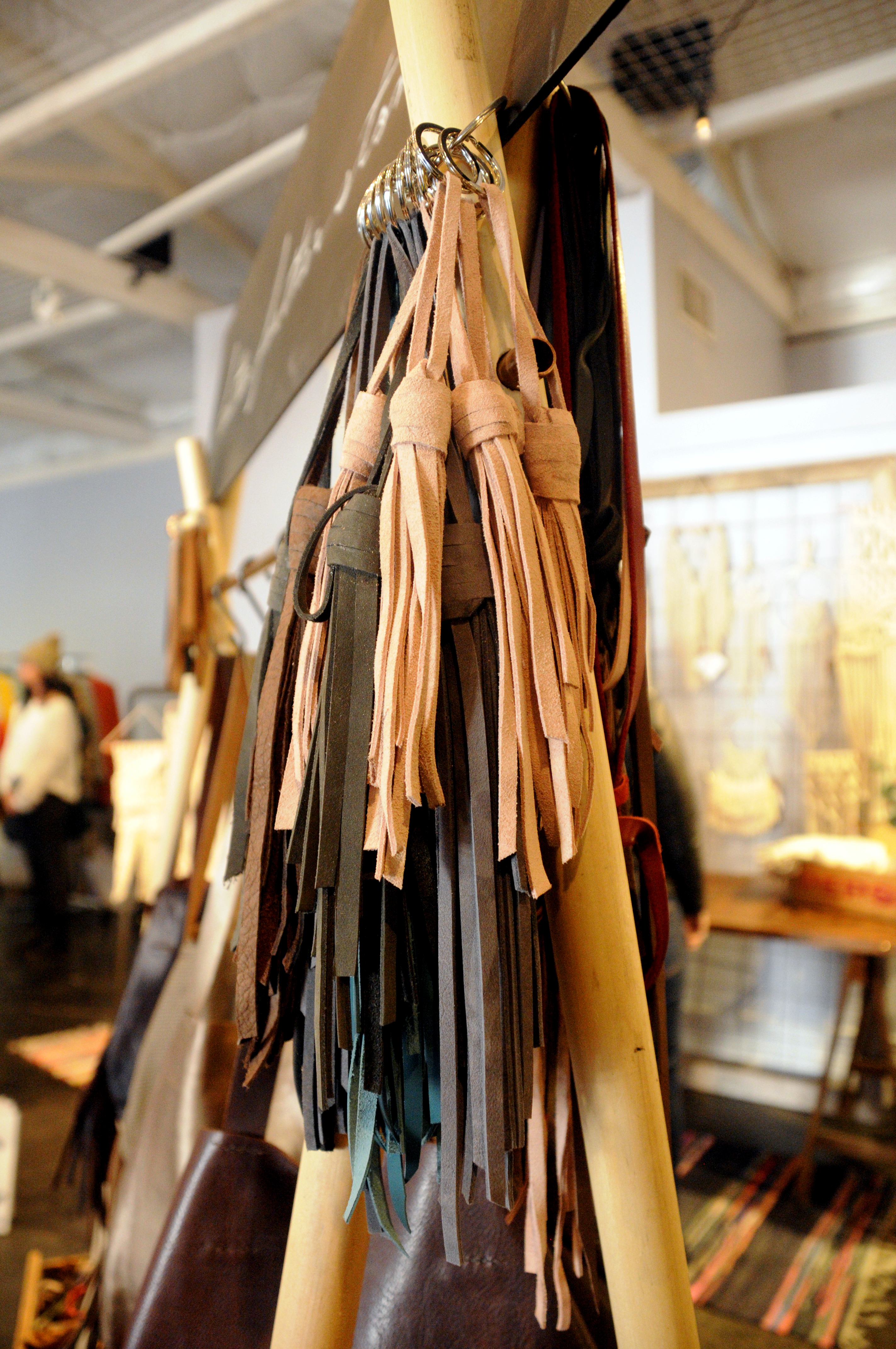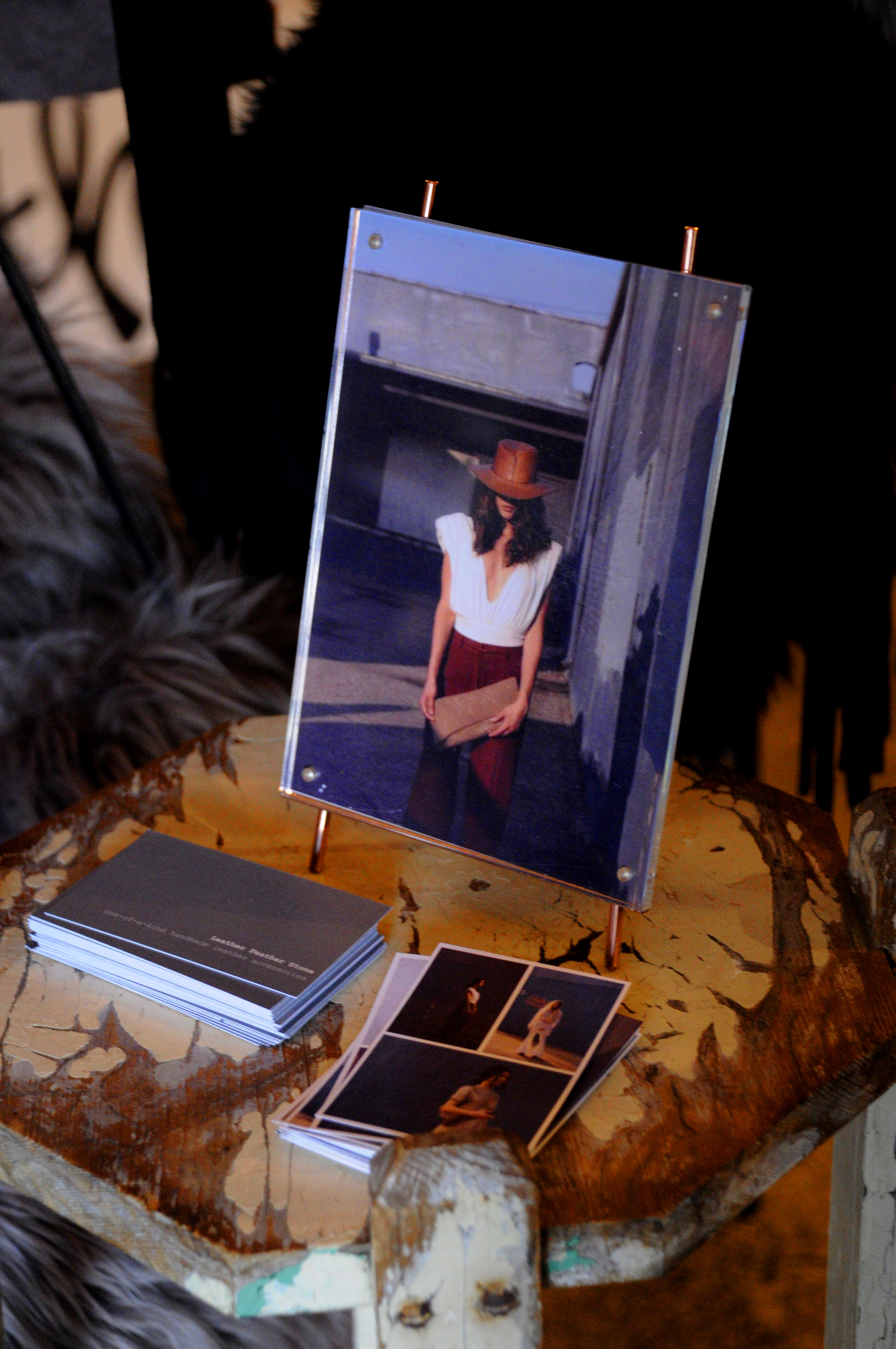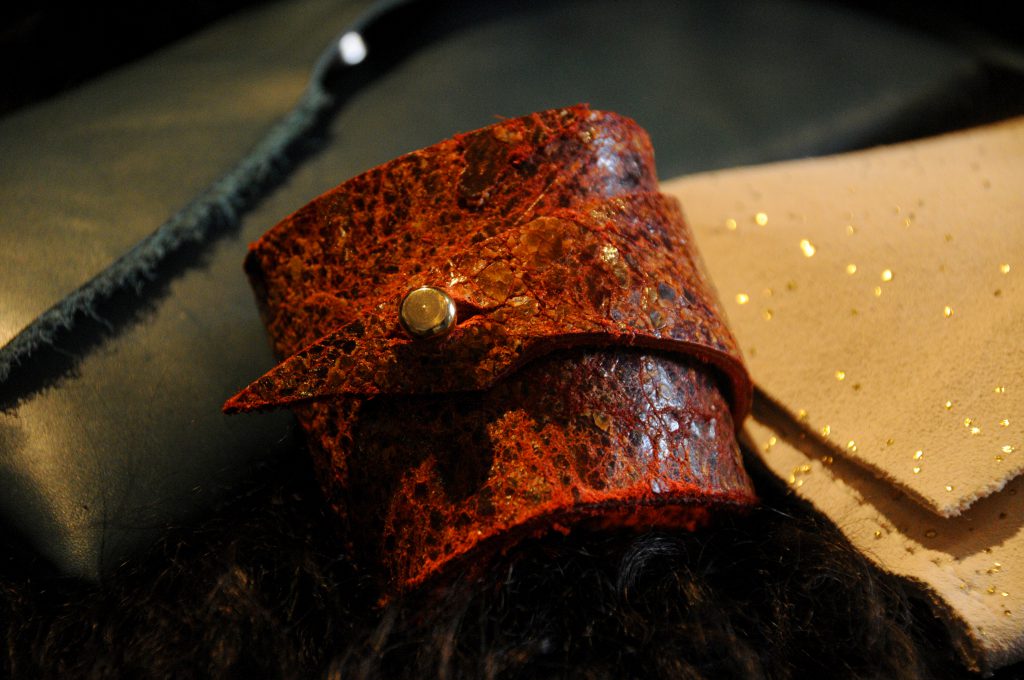 ABOVE: Teal leather wristlet (left) and gold Flexk clutch (right)